v60
The V60 is easy to use, taking just a few minutes to brew a pot.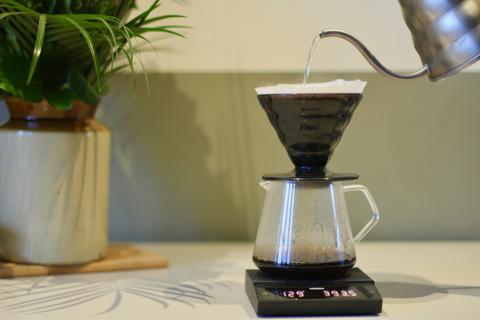 The V60 is easy to use, taking just a few minutes to brew a pot. The angles of the cone fall at 60 degrees, creating the 'V' shape. Those angles, combined with air-flow ridges, help ensure a consistent brew. (You can purchase a V60 along with other brewing accessories in our shop).
WHAT YOU'LL NEED:
V60

Kettle

Grinder (optional)

15-32g Ground Coffee

V60 Filter Papers

Weighing Scales

Spoon

Cup/Jug
DOSE / BREW TIME / RATIO:
Ratio 1:17.5 (e.g. this recipe is for 24g ground coffee to 420g water)

Water Temperature 94°C

Overall Brew Time 3.30min

Grind Size Medium to Fine ( similar to caster sugar)

Tip: A goose-neck kettle offers much more controlled pouring.
RECIPE
Weigh out coffee beans and grind to desired size.

Place V60 on top of cup/jug and line with the filter paper.
- Fold along pressed edge to allow it to sit well.
Heat water to desired temperature and rinse the filter paper. Pour away rinsing water. 
- Temperatures from 90-96°C are best, so if using straight from a kettle wait 30-60 seconds.

Place equipment on scales if using and add your ground coffee to the lined V60. Make sure coffee lies evenly/flat; tap with hand or shake slightly to settle the grinds.

Tare scales and begin timer.

Gently and evenly pour boiled water roughly double the weight of coffee dose. Watch as coffee swells and bubbles. Wait 30 seconds.
- This recipe would call for a 46-50g bloom. 
- A bloom releases carbon dioxide and facilitates better water flow.
Pour the remaining water evenly onto the coffee until desired water weight is complete.
- Pour in slow circle to make sure all coffee grinds can be evenly saturated.

Gently stir the brew twice in a clockwise direction and twice anticlockwise and tap on top of cup/jug once.

Wait for all water to drip through.
- This should take between 3.30 to 4 minutes.
- By the end you are looking for a flat coffee bed (all the saturated grinds now left in the V60), this shows a nice and even extraction.

Drink it. Smell it. Taste it. Enjoy it.